Counting Our Many Blessings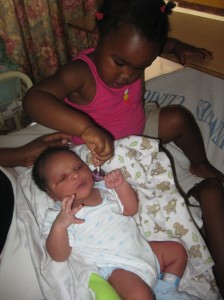 This morning I have just been thinking of the many, many great things that the Lord has done for me. I am so amazed at the Lord's deep love for me. One of the things that I am thankful for is the coming of our son, Zayne. He came on Saturday at 6:30 a.m. The previous Sunday one of our church members, Mr. Tracey had prayed for Gracious that she would have an easy, and quick labor. The Lord answered that prayer. We also enjoyed the way the lord has been using our family and friends to stand with us. He has been so, so good to us. God has given Gracious and I amazing strength and love for the two children. I just marvel at the way that Heidi and loved Zayne she loves him to bits. Often time she wants to care of him all by herself without anyone's help. The other day when Gracious was still in hospital, Heidi was carrying her brother on her lap and singing a song for him. After a while we heard some dead silence from her. The next thing we heard was the baby screaming. Sister Heidi was trying to "feed" the baby way too soon.
Please may you:
Pray for us to learn to love our children the same and give them equal attention, care and love.
Pray for Gracious to be able to balance between the children, studies and her own personal life.
Pray for us as we apply for travel documents for Zayne that they will come out on time.
Pray for our continued growth in loving and serving God.